by Rev Dr. Stephen MK d'Guelph Brunswick
Slutligen avslöjande om vad som är det "Evangeliet i stjärnorna". Medan många författare och predikanter nämner stjärnorna förkunnar evangeliet för hedningarna, säger de aldrig vad det är. Medan många författare har täckt att det verkar finnas en kartläggning av stammarna till zodiaken, hoppar de över alla dessa viktiga bibliska punkter om hur det faktiskt gäller för framgång. Jag tror att detta är en del av kulminationen av den mest noggrant undersökta informationen på många punkter som även de bästa forskarna aldrig ens hört talas om. Vår lärare måste tas till himlen 17 gånger och beordras uttryckligen av YAHWEH att undervisa exakt vad dessa verser säger. Även om det inte på något sätt är uttömmande, dokumenterar detta skrift den korrekta ordningen som stammarna kartlägger till stjärnorna och hur man kan utöva dessa kartläggningar i den troendes liv för korrekt ordning för aktivering och uppstigning i deras "Andekropp". Detta uppnås endast genom att erkänna exakt vad Lammets blod har lösts in i dig.

Nästan alla forskare i ämnet är överens om att Leo ställer upp som Judas lejon, Vattumannen är Ruben, Oxen är Joseph och Skorpionen är Dan. Dessa konstellationer har de ljusaste stjärnorna, och dessa är också brigadstammarna (var och en med två andra stammar under sig).
Medan den delen är överens, sätter nästan ingen forskare sin lista i ordningen på de befallda lägren. De flesta författare listar dem enligt ordningen på födelsen eller i någon annan ordning.
Jag tror att när vi lämnar den ordning som den finns i himlen, målar den en underbar bild. För att inte tala om lägrets ordning.
Pastor Leroy Crouch undervisade i 40 år om ämnet för dessa fyra huvudbrigadstammar, som var och en kartläggs till 1/4 av vår återlösta karaktär i Kristus. Zodiac listar dessa också i samma ordning som finns i lägret som bilden här: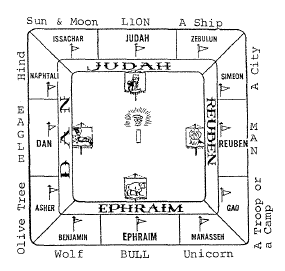 YAHWEH has continued to keep the encampment principle, and so should we. Not only do the heavens continue to show the principle, but also in the Scripture the Israelites are to march as such at the three pilgrimage festivals per year. Even today YAHWEH in His humor has placed the tribes still in the same fashion of the encampments.The three Scandinavian tribes to the North, the three Latin tribes to the South, the three Anglo tribes to the West and the three Germanic tribes to the east (with some tribes also scattered among all other tribes).There is truly good reason to map the tribes in the correct order. YAHWEH has put them together in order with all the other tribes from the Zodiac's standpoint in order of procession. In this article we'll show the spiralling nature of the 12 tribes according to the Zodiac.Today many people are fascinated by the story painted in the stars. Very few have ever realized these are the same 4 major creatures found in Ezekiel Chapter 1 called "the glory of YAHWEH". Even fewer have taken it to heart that the word there for beasts or creatures is actually the hebrew word "Chai" meaning "fullness of divine life". And yet even fewer have read in Revelation where it says there are millions of these beings and that they are "redeemed by the blood of the Lamb" (Revelation 5:9).  Each believer has these four creatures in their interdimensional nature. Note that wherever they go it says their wings are always touching (always together in harmony and balance).People like to say we are all multi-dimensional beings with the ability to ascend. However they go no farther from there. They totally leave out the Scriptures that cover our 4 bodies spanning also within 3 heavens, and the three sets of wings they have etc. We at the Christ's assembly cover in much detail every week all three levels of all four beings in our nature that Christ purchased by His blood. If you go "BEYOND THE CURTAIN" to the higher realms, don't tell me you'll still only be a mere 3D person with a 3D body. Hogwash! This is the multidimensional body above the 3D the Scripture regularly speaks so plainly about. It is only activated by the Blood of the Lamb (Jesus Yasha the Christ).In Revelation 4:6 it says these are they who are in the midst of the throne and round about the throne.In Revelation 5:11 it describes them as numbering in the millions upon millions of Saints.All psychology books agree there are four major character types that also go in four different directions. A balanced and overcoming person will have all four in balance working together. These are also called the four temperaments, which are sangvinisk (glädjesökande och sällskaplig), kolerisk (ambitiös och ledarliknande), melankolisk (introvert och omtänksam) och flegmatisk (relaxed and quiet). To get them all in balance it would be helpful to meditate on the rest of the tribes in their meanings and their orders under them. Each is like a leg stool holding up their main character. There is no source of astrology that gets them in the right order, although YAHWEH told us the order. I've searched hundreds of sources, both from astrology as well as from Israel tribal identity scholars, however none of them simply follow the order YAHWEH has given. Not only do they not follow or list the order as YAHWEH has given both in Scripture as well as in the heavens, but they also do not give any Biblical teaching on it like we do at TCAWW.While all the best books will agree the identification of various tribes to their zodiac sign, none have listed them in order as per their procession. Not only have they not listed it but they are at the farthest cry from ever teaching on it. The procession of them is important to understand the balance of YAHWEH, and how each tribe works together.After 40 years of research and teaching on this subject, Pastor Leroy Crouch listed this most important order of ascension in the Spirit. In a future study I will go much deeper into each tribe but for now I list you the order of procession.THE DAN CAMP (SANNING / logik 1: a himlen jordiska) JORD
1. Dan fick Scorpion, vilket betyder konflikt eller strid. Han ledde vägen till öarna och
stred mot nationerna.
2. Ashur står för Skytten, en bågskytt, en förstörare. Hans skor var "järn och mässing", och det var han
acceptabelt för sina bröder.
3. Naftali står för Stenbocken, en get, som på hebreiska betyder "klipp av"; "Ett bakom släppt lös", avgränsning
"Med goda ord."
CAMP OF REUBEN (RÄTTIGHET / känslor 2: a himmelens själsrik) VATTEN
4. Jacob sa om Ruben: "Instabilt som vatten, du ska inte utmärka dig." Reubens stam motsvarade
med skylten Vattumannen, som betyder vatten.
5. Simeon står för Fiskar, eller fiskar, utspridda genom vattnet. Simeon bodde bland Juda och
alltid hjälpt i stammen.
6. Gad fick Väduren, en ram, och betyder "utsänd". från honom utfärdade dom och "han kom
med folkets huvuden. "- 5 Mos. 33: 21.
COSP OF JOSEPH (SERVANTHOOD / spirituell 3: e himlens frukt)
7. Joseph representerade Oxen, en tjur, som på hebreiska betyder att komma. Äraens ära, den
tusenårsglädje, kommer genom Joseph.
8. Benjamin får tvillingarna (Gemini), vilket betyder enat - i Kristus ska alla vara en.
9. Issachar är associerad med cancer, en krabba, vilket betyder att hålla fast. - "En tjänare till hyllning." -
1 Mos 49:15.
CAMP OF JUDAH (REGULERING / tronad av YAHWEH) BRAND
10. Juda är förknippat med Ariel, eller Leo, lejonet (Jes 29: 1), som på hebreiska betyder framträdande,
åtskillnad; "För honom skall folkets församling vara." - 1 Mos. 49: 10.
11. Zebulun fick jungfrun, en jungfru, vilket betyder renhet. "Han sugade av överflödet av
hav och skatter gömda i sanden. "- 5 Mos. 33: 19.
12. Levi står för Vågen, vilket betyder vågar, ett instrument för vägning. Det var passande att Vågen
skulle ges till Levi, eftersom han skulle lära folket lagen.
Det finns en annan pärla för varje stam, som också är grundpelare i den nya staden Jerusalem. Den polska brukar använda juveler som också matchar var och en av de tolv apostlarna (som det står finns det tolv troner för de tolv apostlarna, som var och en styr över en av Israels stammar. Och över var och en av portarna till den nya staden Jerusalem är ett av namnen på var och en av de tolv stammarna Det står också att det finns tolv frukter som växer från livets träd, en frukt för varje månad. Så det är nödvändigt att vi förstår och känner till dessa årstids läror som de förstod och skrev om så fritt i bibliska tider. Vi är i Bibliska tider nu, så det är mer tid att vakna ur sömnen! (Djupare läror är för omvända, döpta återfödda, bekräftade och trogna troende som dagligen vandrar med Gud. Vårt priory har läror som tillämpar dessa sanningar i vårt dagliga liv hur vi kan gå i seger under alla omständigheter.)
In the next lesson we'll go more into the spiritual natures of each tribe in the zodiac. The next lesson is by request for advanced students. It will include a full graphic demonstrating the procession along with all detailed psychological and spiritual notes. If you would like to receive it email Minister@ChristsAssembly.comGet the E-Book TVÅ STICKAR ELLER DE UPPTÄCKTE TAPNA AV ISRAEL