by Rev Dr. Stephen MK d'Guelph Brunswick
Wreszcie ujawnienie, czym jest ta "Ewangelia w gwiazdach". Chociaż wielu autorów i kaznodziejów wspomina, że gwiazdy głoszą ewangelię Gojom, nigdy nie mówią, co to jest. Podczas gdy wielu autorów mówiło, że wydaje się, że istnieje mapowanie plemion do Zodiaku, pomijają wszystkie te istotne biblijne punkty dotyczące tego, w jaki sposób odnosi się to do sukcesu. Uważam, że jest to część kulminacji najdokładniej zbadanych informacji w wielu kwestiach, o których nawet najlepsi uczeni nigdy nie słyszeli. Nasz nauczyciel musiał być 17 razy zabrany do nieba i otrzymał wyraźne polecenie od JAHWEH, aby nauczał dokładnie tego, co mówią te wersety. Chociaż w żadnym wypadku nie jest to wyczerpujące, to pismo to dokumentuje prawidłowy porządek mapowania plemion do gwiazd i jak wykonywać te odwzorowania w życiu wierzącego, aby uzyskać właściwą kolejność aktywacji i wniebowstąpienia do ich "ciała duchowego". Można to osiągnąć tylko wtedy, gdy dokładnie rozpoznasz, co zostało w tobie odkupione, krew Baranka.

Prawie wszyscy uczeni na ten temat zgadzają się co do tego, że Lew ustawia się jako Lew Juda, Wodnik to Ruben, Byk to Józef, a Skorpion to Dan. Te konstelacje mają najjaśniejsze gwiazdy i są to także plemiona brygad (każde z dwoma innymi plemionami pod nimi).
Chociaż ta część jest uzgodniona, prawie żaden uczony nie umieszcza ich listy w kolejności dowodzonych obozowisk. Większość autorów wymienia je według kolejności urodzenia lub w innej kolejności.
Wierzę, że kiedy zostawimy w spokoju porządek, jaki panuje na niebie, maluje on cudowny obraz. Nie wspominając o kolejności obozowisk.
Pastor Leroy Crouch nauczał przez 40 lat na temat tych czterech głównych plemion brygad, z których każde przedstawia 1/4 naszego odkupionego charakteru w Chrystusie. Zodiak wymienia je również w tej samej kolejności, w jakiej znajdują się w obozowisku, jak pokazano tutaj: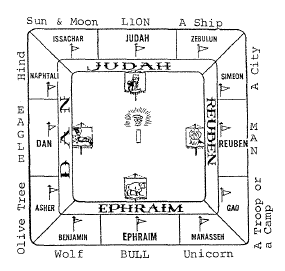 YAHWEH has continued to keep the encampment principle, and so should we. Not only do the heavens continue to show the principle, but also in the Scripture the Israelites are to march as such at the three pilgrimage festivals per year. Even today YAHWEH in His humor has placed the tribes still in the same fashion of the encampments.The three Scandinavian tribes to the North, the three Latin tribes to the South, the three Anglo tribes to the West and the three Germanic tribes to the east (with some tribes also scattered among all other tribes).There is truly good reason to map the tribes in the correct order. YAHWEH has put them together in order with all the other tribes from the Zodiac's standpoint in order of procession. In this article we'll show the spiralling nature of the 12 tribes according to the Zodiac.Today many people are fascinated by the story painted in the stars. Very few have ever realized these are the same 4 major creatures found in Ezekiel Chapter 1 called "the glory of YAHWEH". Even fewer have taken it to heart that the word there for beasts or creatures is actually the hebrew word "Chai" meaning "fullness of divine life". And yet even fewer have read in Revelation where it says there are millions of these beings and that they are "redeemed by the blood of the Lamb" (Revelation 5:9).  Each believer has these four creatures in their interdimensional nature. Note that wherever they go it says their wings are always touching (always together in harmony and balance).People like to say we are all multi-dimensional beings with the ability to ascend. However they go no farther from there. They totally leave out the Scriptures that cover our 4 bodies spanning also within 3 heavens, and the three sets of wings they have etc. We at the Christ's assembly cover in much detail every week all three levels of all four beings in our nature that Christ purchased by His blood. If you go "BEYOND THE CURTAIN" to the higher realms, don't tell me you'll still only be a mere 3D person with a 3D body. Hogwash! This is the multidimensional body above the 3D the Scripture regularly speaks so plainly about. It is only activated by the Blood of the Lamb (Jesus Yasha the Christ).In Revelation 4:6 it says these are they who are in the midst of the throne and round about the throne.In Revelation 5:11 it describes them as numbering in the millions upon millions of Saints.All psychology books agree there are four major character types that also go in four different directions. A balanced and overcoming person will have all four in balance working together. These are also called the four temperaments, which are sangwina (szukający przyjemności i towarzyski), choleryczny (ambitny i przywódczyni), melancholijny (introwertyczny i rozważny) oraz flegmatyczny (relaxed and quiet). To get them all in balance it would be helpful to meditate on the rest of the tribes in their meanings and their orders under them. Each is like a leg stool holding up their main character. There is no source of astrology that gets them in the right order, although YAHWEH told us the order. I've searched hundreds of sources, both from astrology as well as from Israel tribal identity scholars, however none of them simply follow the order YAHWEH has given. Not only do they not follow or list the order as YAHWEH has given both in Scripture as well as in the heavens, but they also do not give any Biblical teaching on it like we do at TCAWW.While all the best books will agree the identification of various tribes to their zodiac sign, none have listed them in order as per their procession. Not only have they not listed it but they are at the farthest cry from ever teaching on it. The procession of them is important to understand the balance of YAHWEH, and how each tribe works together.After 40 years of research and teaching on this subject, Pastor Leroy Crouch listed this most important order of ascension in the Spirit. In a future study I will go much deeper into each tribe but for now I list you the order of procession.OBÓZ DAN (PRAWDA / logika 1. niebo ziemskie) ZIEMIA
1. Dan otrzymał Skorpiona, co oznacza konflikt lub spór. Poprowadził drogę na wyspy i
walczył przeciwko narodom.
2. Ashur to Strzelec, łucznik, niszczyciel. Jego buty były "z żelaza i mosiądzu" i był
do przyjęcia dla jego braci.
3. Naftali oznacza Koziorożec, kozę, co po hebrajsku oznacza "odcięty"; "Wypuszczona łania", skacząca
"Dobrymi słowami".
OBÓZ REUBEN (SPRAWIEDLIWOŚĆ / emocje 2. sfera dusz w niebie) WODA
4. Jakub powiedział o Rubenie: "Nietrwały jak woda, nie będziesz się przewyższał". Plemię Rubena odpowiadało
ze znakiem Wodnik, co oznacza wodę.
5. Symeon oznacza Ryby lub ryby rozproszone po wodach. Symeon mieszkał wśród Judy i
zawsze pomagał w wojnach tego plemienia.
6. Gadowi dano Barana, barana, co oznacza "wysłany"; od niego wydał wyrok i "przyszedł
z głowami ludu "- Powt. 33:21.
OBÓZ JÓZEFA (SERWANT / duchowy trzeci niebiański owoc ducha) POWIETRZE
7. Józef przedstawiał Byka, byka, co po hebrajsku oznacza przyjście. Era chwały,
tysiącletnie radości przychodzą przez Józefa.
8. Benjaminowi dano Bliźnięta (Bliźnięta), co oznacza zjednoczenie - w Chrystusie wszyscy będą jednym.
9. Issachar jest powiązany z Rakiem, krabem, co oznacza trzymanie się mocno. - "Sługa w hołdzie" -
Rdz 49:15.
OBÓZ JUDY (WŁADZA / Intronizowany przez JAHWEH) OGIEŃ
10. Juda jest powiązany z Arielem, czyli Lwem, lwem (Iz. 29: 1), co po hebrajsku oznacza wzniosłość,
różnica; "Do niego będzie zgromadzenie ludu" - Rodz. 49:10.
11. Zebulon otrzymał Pannę, dziewicę, co oznacza czystość. "Ssał z obfitości
morza i skarby ukryte w piasku "- Powt. 33:19.
12. Levi to skrót od Libra, co oznacza wagi, przyrząd do ważenia. To było w porządku, że Libra
powinien zostać przekazany Lewiemu, ponieważ miał on uczyć ludzi prawa.
Dla każdego plemienia istnieje inny klejnot, który jest również filarem fundamentalnym w nowym mieście Jerozolimie. Polska praktykuje używanie perełek również pasujących do każdego dwunastu apostołów (jak jest napisane, jest dwanaście tronów dla dwunastu apostołów, z których każdy rządzi jednym z plemion Izraela. A nad każdą bramą do Nowego Jeruzalem jest jedno z imion każdego z dwunastu pokoleń Mówi się również, że jest dwanaście owoców, które wyrastają z drzewa życia, jeden owoc na każdy miesiąc. Dlatego wypada nam zrozumieć i poznać te nauki pór roku, tak jak rozumieli i pisali o nich swobodnie w czasach biblijnych. Czasy biblijne teraz, więc nadszedł więcej czasu, aby obudzić się ze snu! (Głębsze nauki są dla nawróconych, ochrzczonych narodzonych na nowo, potwierdzonych i wiernych wierzących, którzy codziennie chodzą z Bogiem. Nasz Zakon ma nauki, które stosują te prawdy w naszym codziennym życiu, jak chodzić w zwycięstwie w każdych okolicznościach).
In the next lesson we'll go more into the spiritual natures of each tribe in the zodiac. The next lesson is by request for advanced students. It will include a full graphic demonstrating the procession along with all detailed psychological and spiritual notes. If you would like to receive it email Minister@ChristsAssembly.comGet the E-Book ODKRYTO DWA KIJKI LUB ZAGUBIONE PLEMIĘ IZRAELA